Description
Edit
The Block Boy, most know as an "Tourist" is one of the many basic skins appearing in KoGaMa as a starter Avatar and as a Visitor Avatar ( Tourists ).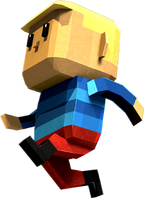 Appearance
Edit
The Block Boy has a small blond short hair and a blue and light blue scheme T-Shirt with a red pant and black shoes.
Contributed by: Minynja.
Edit